Imagine This Scenario: You and your family are leaving the mall. Suddenly, you realize that you forgot to take the keys from your car. Besides facing your family's killing stares, you must figure out how to unlock the vehicle! Moreover, being locked out of the car with everything inside and having luggage/bags in hand is terrible!
Join us in exploring practical solutions for a more common situation than you might think.
The best and most convenient thing a person would do is call the car lockout service. All you have to do is simply search for "car lockout service near me," and you will get a list of services.
Now the question is how you will select the best one. Simply select each one and see the reviews that are given beneath them! You will quickly figure out the best services after reading the reviews of actual users.
The car lockout service provider with excellent ratings and reviews will generally be able to reach out to you within 30 minutes of your call. The best and most genuine car lockout services generally cater to their customers 24*7 and 365 days a year!
Finding expert vehicle lockout services is simple with our simple and effective solution. Still, sometimes, you face a more significant challenge, like being locked out of a car on the highway. That's when you need more patience and luck.
Many expert vehicle lockout services won't rescue you on the road. You might have to wait longer or pay more for their service.
Dealing with a car lockout, especially on the highway or outside the city, can be tricky. Here's a simple plan:
Jot down a few nearby car lockout services, and call them for a mechanic.
If they're far, be ready to offer extra
If they can't make it, try a towing company, but only go as far as the city.
These services often have towing options, too. Stay safe and sorted with your car lockout solution!
In any case, do not try to open your vehicle! Experts strongly suggest that you should not try to open your vehicle via any other methods, or you might damage your vehicle!
Let us now look at some frequently asked questions about car lockout services.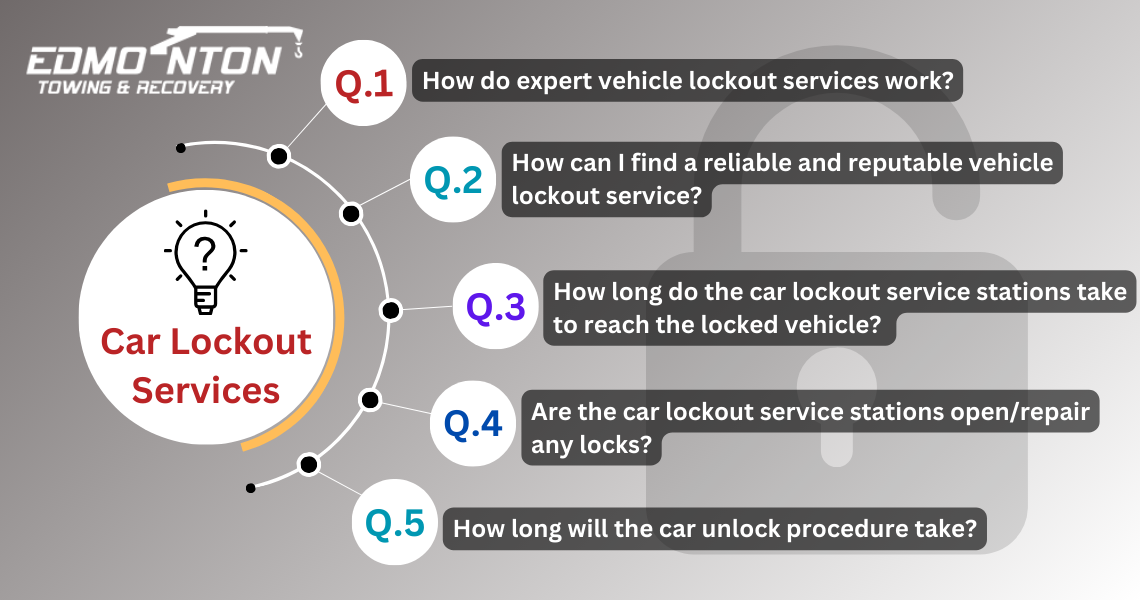 Q.1 How do expert vehicle lockout services work?
Expert services send their trained professionals with special tools when you have been locked out of your vehicle. They come quickly, check your situation, and use safe methods to unlock your vehicle without harm. This gets you back on track without any trouble.
Q.2 How can I find a reliable and reputable vehicle lockout service?
To find a good car lockout service, ask friends for recommendations, read online reviews, check if they're available day and night, and make sure they tell you the price upfront. Also, make sure to verify their licence.
Q.3 How long do the car lockout service stations take to reach the locked vehicle?
The most reasonable and worthy car lockout service stations take 30 minutes to reach their destination. Moreover, their services are available 24*7 hours, 365 days.
Q.4 Are the car lockout service stations open/repair any locks?
Absolutely! There is a reason why they are called locksmiths! They have upgraded tools, technology, and techniques to open any key at any time.
Q.5 How long will the car unlock procedure take?
The car unlocking usually takes 5-10 minutes unless the lock is high-security or customized!
In this guide, we've covered everything you need to know about car lockout services, from finding a trustworthy provider to preventing lockouts. Remember to negotiate the price before finalizing your choice.
Edmonton Towing is one of the finest towing companies and premier brands! We have a specialized team of locksmiths trained rigorously and possess the most specialized tools and techniques for their job! We believe in serving with transparency and are accessible 24*7*365 days, even at even odd hours. Just call us, and our quick mechanics and locksmiths will reach you in 30 minutes straight!
We might be locksmiths and have a key to every lock, but customer satisfaction is the key that has taken us many a mile!
To get more details on our car lockout service, please visit us at https://edmontontowingservices.com/service/car-lockout-service or feel free to contact us and drop your queries at edmontontowing@gmail.com , and we will reach out to you at the earliest!