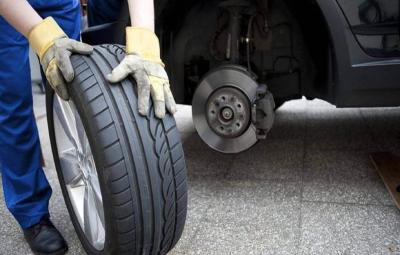 Not only are flat tires a huge inconvenience, but they can also be downright dangerous, particularly at night or on some of Canada's busy freeways and highways. If you're on a busy road and don't know the correct way to change a flat tire, Edmonton Towing Services offers affordable Flat Tire repair in Edmonton and the surrounding area. Our tire change service is quick, reliable and available 24 hours a day, seven days a week in Edmonton.
The trained and reliable professionals at Edmonton Towing Services know how to repair a tire and get you back on the road safely and quickly. We can put on your spare tire.
No spare? No problem. We'll tow your car to the nearest tire shop or mechanic so you can buy a new tire or get your flat tire fixed and be back on the road.
Flat tires are an unfortunate fact of life. Whether it is a slow leak or a full blowout, sometimes you just need help. Log nut trouble? Sometimes it can be hard to remove those stuck log nuts, and some tires require a special log key from the car manufacturer to remove them.
If you don't have the key, our tow trucks can easily tow your car to the dealership or mechanic so your flat tire can be repaired and you can be back on the road.

Spare, but no jack? We can help. Our professional staff can perform the complete tire change for you safely, quickly, and correctly at any time of the day or night. Helping motorists get back on the road is what we do best here.
We operate 24 hours a day, seven days a week, with a quick response time.