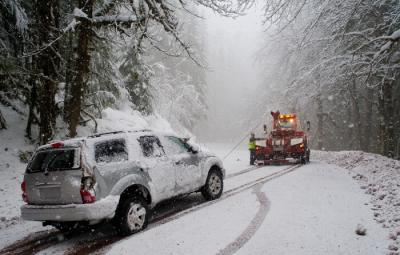 Edmonton is known for its severe terrain and weather conditions. In Edmonton and the surrounding area, it's not uncommon to get your vehicle stuck in the snow, mud, water, or a ditch. If you've gotten your car stuck in a ditch, trapped in a ravine or snow bank or have driven off the road and are stuck in a precarious or dangerous spot, chances are you'll need a tow truck with a winch out service.
Why do you need a winch? Winch-out equipment is used when you need to move vehicles out of roadside areas that are not easily accessible, like a ditch, snow, mud, or sand safely and quickly. Since you can't just drive the vehicle out of the ditch or sand, we use a winch, which is a motor with a pulley. At the end of the pulley is a long steel cable with a hook that gets attached to the vehicle's frame. Once the motor is started, the winch truck pullsthe vehicle back to a safe surface.
In most cases, we can get a tow truck with winch out equipment to you within 30 minutes, pull your car out, and get you back on the road.If your vehicle is damaged, we'll tow you to the garage or mechanic of your choice. Winch out servicing is highly specialized, so before hiring any towing company, make sure they are licensed and insured.
Our amazing crew of technicians are trained in the latest towing services and recovery technology using flatbed trucks and winch-out equipment. We're the number one choice in Edmonton and surrounding areas when it comes to vehicle recovery and towing using winch out equipment. Our drivers are fast, reliable, trained and available to help you 24 hours a day, 7 days a week!